Home

Our Stallions

Our Mares
Family Reunions

For Sale

Foaling Announcements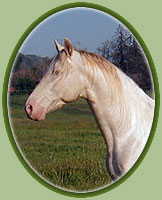 Introducing... "Spurs Cool Whip"
*The Only Double Agouti Perlino Tobiano
Tennessee Walking Stallion standing in Southern California*
Add a little color to your dreams. Not only will this elegant Tennessee Walking stallion add beauty, color and gait to your foals but his mild disposition makes him the perfect stallion to breed to your mares. Cool Whip has an elegant long swan like neck a beautiful head and a big striding gait. He is not just a another pretty face but also has a gentle mild nature. He has it all.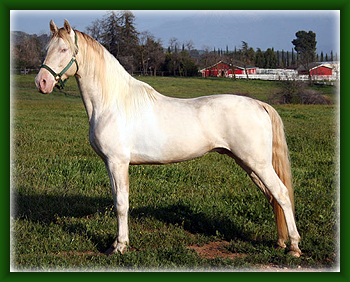 His pedigree reflects some of the top producing Tennessee Walkers in history including, Spotted Allen Again, Last Chance and many other foundation bloodlines.
Live foal and color guarantee (Buckskin, Palomino or Tobiano). Multiple mare discounts available and MC/Visa excepted for your convenience. So hurry and reserve your spot and give us a call.
---
Generator's Midnight Dream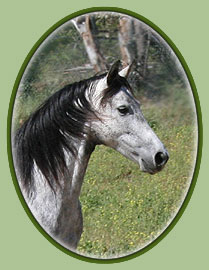 Midnight Dream is a beautiful deep dark rich dapple grey with black legs and mane, beautiful neck and head. Not only is this exquisite mare a dream to look at but she is a dream to ride. She glides at the running walk and feels like you are riding on air. Her gentle nature makes her safe for the small members of the family as well as the big members (husbands) to ride. She passes these qualities on to her offspring. Ask us what foals we have available out of Midnight Dream.

---

Sunfire's Show Gal (AKA Dolly)

Dolly is a stunning Sorrel mare with a gorgeous white mane and tail beautiful head and a kind eye. She has beautiful conformation and has a 4 beat running walk gait which she goes right into. She passes these traits onto her foals. Her name says it all.






She is a showy mare and has some of the top named horses in her pedigree. Horses such as Prides Generator Doc's High Tribute*(WGC) to name a few. Watch to see what foals we have up and coming available out of Dolly.
---
DW's Precious White Gold (Photos taken at 6 months old)

Precious is a Cremello filly with one agouti gene that was born on my birthday in May 2006. She is out of our mare Sugar and her sire is Supreme Champion He's Black Hills Gold. As she grew she started looking like a little fantasy horse with her baby doll face, curly mane and tail and her blue eyes we couldn't resist and so she has now been added to our breeding program.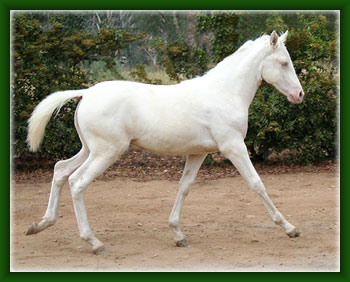 Precious is expected to be about 16 hands and she already has a huge over stride and her personality is so sweet. For babies like Precious look for available foals out of Sugar in 2008.
---
Home

Our Stallions

Our Mares
Family Reunions

For Sale

Foaling Announcements